Gentle Rainstorm Relaxation for Sleep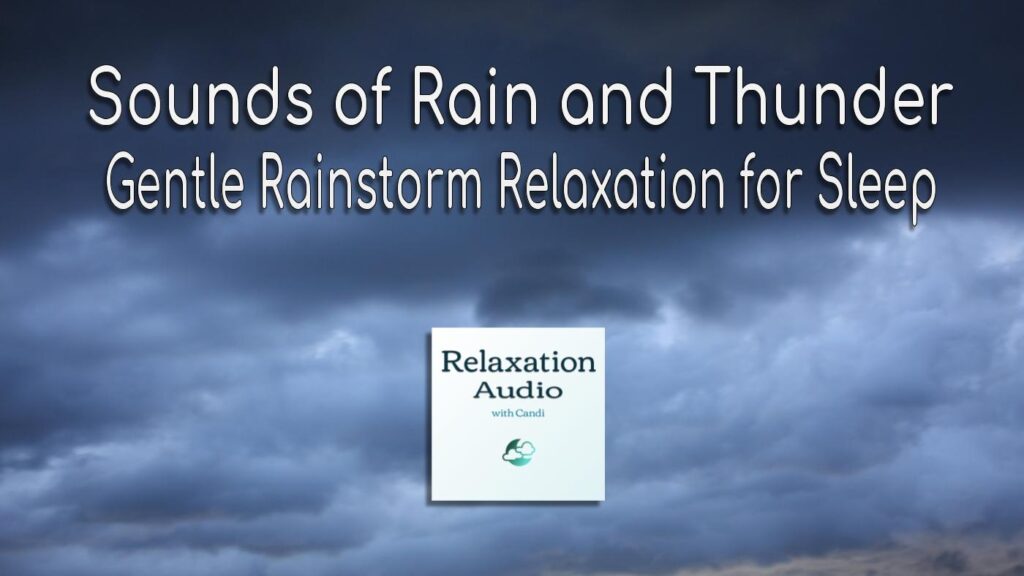 This guided relaxation exercise allows you to visualize a calming rainstorm with the sounds of rain and thunder to guide you to drift off to sleep.
For a free relaxation download each week, listen to the Relaxation Audio with Candi podcast, available on iTunes, on Google Play, at http://relaxation-audio.libsyn.com, or wherever you get podcasts.
Sounds of Rain and Thunder Sleep Relaxation Script
Begin by creating a picture in your mind. Imagine it is night. You are safe indoors, in a cozy bed. You are in a comfortable warm room, with a window slightly open. A cool breeze comes through the window. It feels really nice.
It is raining outside. A calm, summer rain. The rain is beautiful. Allow yourself to start to relax as you listen to the rain. You can hear occasional thunder. It makes a beautiful sound. Even the thunder seems calm.
As you listen to the soothing rain, take a nice, deep breath. Then as you breathe out, relax your body. Breathe slowly in…and calmly out. In…and out…so slow, and so calm. Keep breathing. Relax just a little more with each breath. 
Imagine that with each breath in, you can smell the rain. It smells so clean. Breathing in this beautiful, clean air is so relaxing. Picture the tension leaving your body when you breathe out. In particular, focus on the muscles of your neck and shoulders. Imagine with every breath you take, your shoulders become limp…your neck relaxes…and all the muscles loosen as they become more and more relaxed.
(Pause)
Notice the Sound of the Rain…
The sound of the rain is so soothing. Beautiful. The night sky is dark…cloudy…calm. Every so often, you can see a bit of light in the distance as small bits of lightning dance across the sky. The light is very soft and diffuse…as if a big, clean light bulb is turned on somewhere on the other side of the clouds. Notice how light filters through the clouds. First one area lights up, and then another. The light dances from cloud to cloud, and then all is dark. 
You can hear the raindrops falling…watering the plants. Hear the raindrops on the roof above you. Listen to the occasional drip of water draining off the roof.
(Continued).
To hear the full relaxation script, listen below.
Looking for more sleep relaxation scripts? Try these sleep relaxation exercises to fall asleep quickly and sleep soundly.