Take a quick 5-minute stretch and relaxation break to reduce anxiety, decrease stress, and lessen muscle tension.
For updates, videos, and relaxation techniques, you can find Relaxation Audio with Candi on Facebook at https://www.facebook.com/relaxationaudio.
Remember to subscribe to Relaxation Audio with Candi podcast on Apple Podcasts, Google Podcasts, YouTube, or wherever you get podcasts, for a new relaxation download each week.


Quick 5-Minute Stretch and Relaxation Break Script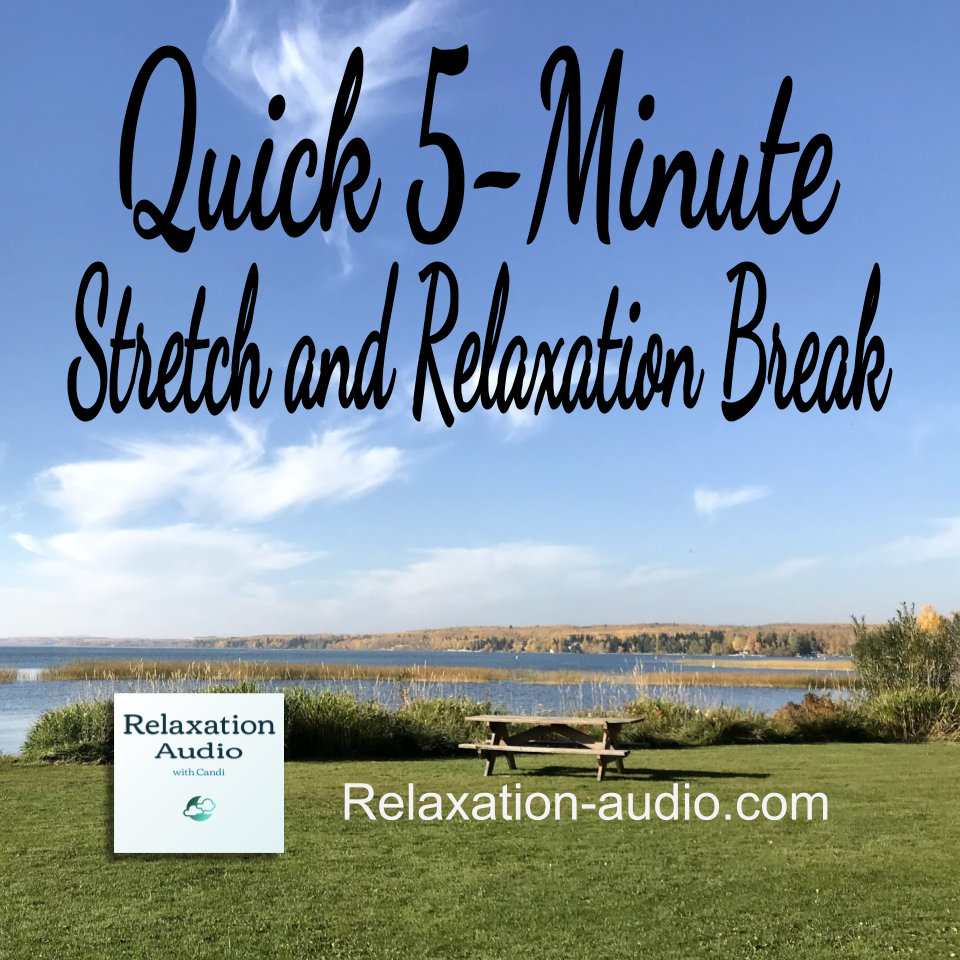 Get ready to relax. Set aside 5 minutes, just for you. Take these 5 minutes to breathe, stretch, and calm the mind.
First let's breathe. Close your eyes and take a breath in. Hold. And now breathe out.
Breathe slowly in through your nose. Pause. Now slowly exhale through your mouth.
Slowly in. Hold. And slowly out.
Keep breathing like this. Slow, calm breaths.
As you breathe, purposely allow your mind to become quiet. Pay attention to your breaths.
(Pause)
Stretching
Now stretch to get rid of muscle tension. The movements and stretches should be comfortable and not painful in any way. Stretch only as far as feels good for you.
First, warm up your muscles with a few gentle movements. Look up toward the ceiling. Hold this position for a moment as you continue to breathe. Return to neutral. Now look down, bringing your chin toward your chest. Keep breathing. Return to neutral.
Lean your right ear toward your right shoulder. Remember to keep breathing slowly. Bring your head back up to a neutral position. Lean your left ear toward your left shoulder. Return again to neutral.
Now turn your head to look right. Look forward. Turn your head to the left. Look forward. Keep breathing.
Reach forward with your hands, bringing your arms up to shoulder level, and reaching to the front of your body. Stretch gently. You can take hold of one wrist or interlock your fingers if you want to, keeping your arms straight. Avoid locking your elbows. Bring your shoulders forward. Stretch so your shoulder blades move out to each side and forward. Let your back curve forward as you stretch. You should feel a nice stretch in your upper back. Bend your neck forward, leaning your head down to stretch even further, as long as the stretch feels comfortable. Hold this position while you keep breathing…allowing your muscles to loosen.
Now return to a neutral position.
(Continued)
The quick 5-minute stretch and relaxation break script continues in the video below.
Additional relaxation audio you may enjoy: