A short meditation exercise to focus on peaceful thoughts. Calm your mind and relax quickly when you are experiencing stress.
For updates, videos, and relaxation techniques, you can find Relaxation Audio with Candi on Facebook at https://www.facebook.com/relaxationaudio.
According to the book of Philippians, "whatever is true, whatever is honorable, whatever is right, whatever is pure, whatever is lovely, whatever is commendable, if there is any excellence and if anything worthy of praise, think about these things" (Philippians 4:8 NASB).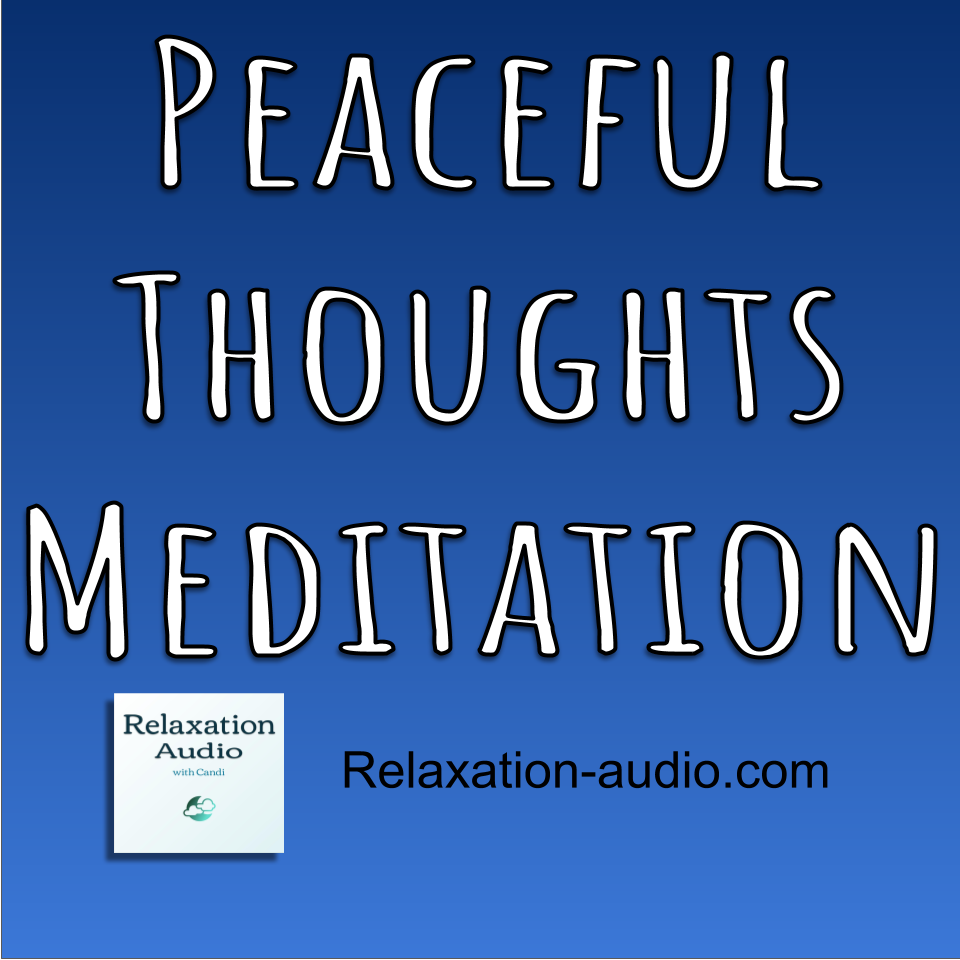 Let's take a few moments to meditate on these words and concentrate on peaceful thoughts.
Remember to subscribe to Relaxation Audio with Candi for more meditation audio scripts.


Peaceful Thoughts Meditation Script
Get comfortable and close your eyes, or focus your gaze on one spot in front of you. Breathe slowly to allow your body to begin to relax and unwind.
While you breathe, think about what it means to focus on true, honorable, praiseworthy, good things.
Take a deep breath in, nice and slow.
Now breathe out, slowly releasing the air.
Breathe in again…and exhale, releasing tension as the air leaves your body.
Breathe in…and out.
Inhale…exhale.
Continue to breathe slowly. Imagine that every breath you take is like breathing in peace and calm, and breathing out any tension or stress.
Every time you breathe out, allow stress to leave your body.
Imagine stress, tension, and worries decreasing and going away with every breath out.
(Pause)
Turn your attention to your thoughts.
Now turn your attention to your thoughts. Sometimes thoughts come up for no apparent reason, but you can choose which things you will purposely think about, even if the random things are outside of your control. For the next few minutes, ignore any thoughts that arise besides the ones that you are focusing on deliberately. Any other thoughts that come, just allow them to pass without focusing on these thoughts or dwelling on them.
Direct your attention now to the concept of peace. What does peace feel like? Imagine a feeling of peace in your body, and what it would feel like, physically, to experience a sense of peace.
(Pause)
Continue to think about peace. What is it like to feel peaceful?
(Pause)
What is it like to think peaceful thoughts? Imagine if your thoughts were like an ocean. Imagine the waves in the ocean are like thoughts. Picture rough, big waves on the water. And then imagine the waves calming. Imagine if the water was completely peaceful, as smooth as glass. Peaceful thoughts filling your mind. Completely still. Quiet. Serene.
Focus on this feeling of serenity. Imagine stillness, and quiet. Concentrate on peaceful thoughts. Restful and still.
(Pause)
(Continued)
The peaceful thoughts meditation script continues in the video below.
Looking for more relaxation audio to relax the mind? Try these: