A quick 5-minute relaxation break to reduce stress and feel calm. Relax your muscles and de-stress in just 5 minutes with a full body passive progressive muscle relaxation.
You only need a few minutes to be able to relax, get rid of tension, and reduce anxiety. This short relaxation script will help you feel relaxed and calm within only a few minutes. This type of exercise is great for busy days or for taking a short break. Relaxation is good for your health!
Listen to the quick 5-minute relaxation download for free here.


Find the Relaxation Audio with Candi podcast on iTunes, on Google Podcasts, on YouTube, at http://relaxation-audio.libsyn.com, or wherever you get podcasts.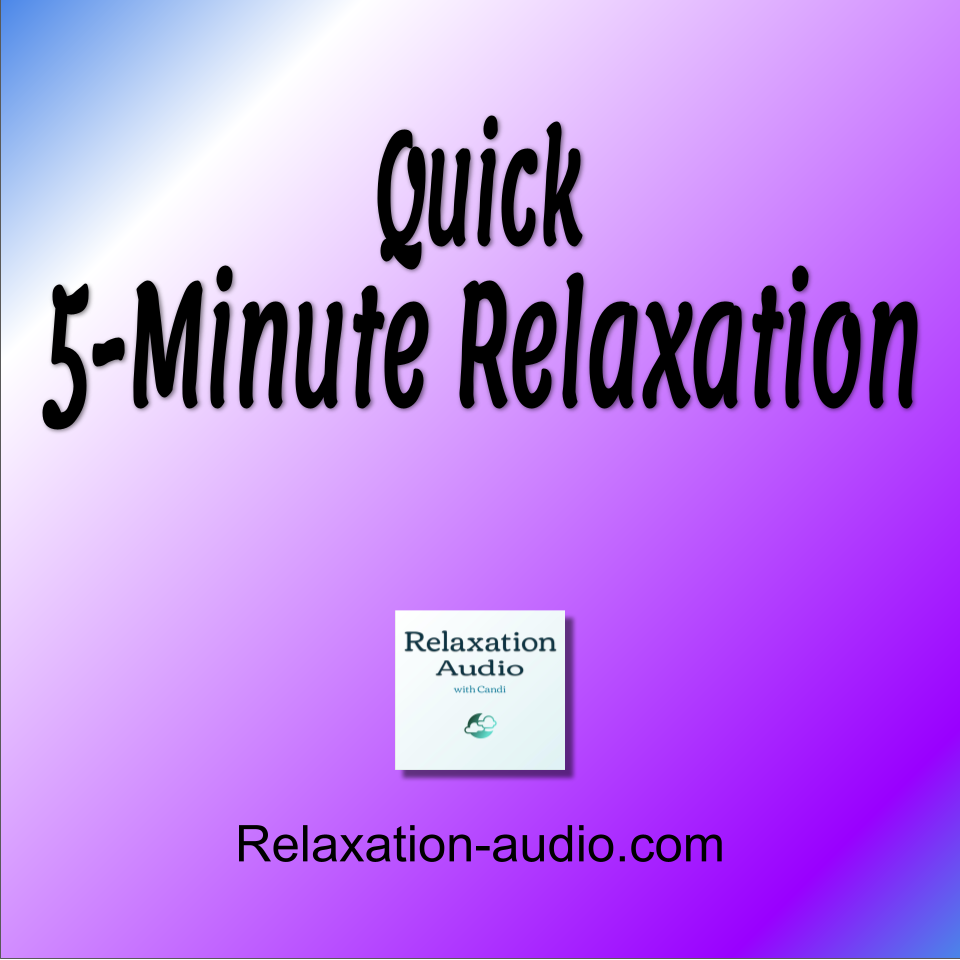 Full Relaxation Script: 5-Minute Relaxation
Prepare to relax by closing your eyes and taking a deep breath. As you breathe out, let go…relax.
Breathe slowly and naturally.
For the next few minutes, this time is just for you. Do nothing for just a few minutes…only relax.
Let your shoulders sink down into a relaxed position. Just let go, as if the muscles of your shoulders are melting and softening…becoming totally relaxed.
Allow your arms and hands to go limp and relax completely. Give up any tension in your arms, allowing your arms to completely relax.
Relax your face now. Let your mouth relax, totally relaxing your lips and tongue. Relax your jaw, holding your jaw loosely so your teeth are apart or just lightly touching. Release any tension in your forehead, allowing your forehead to become relaxed and smooth. Relax your cheeks, nose, and chin.
Relax your neck. Let your neck muscles give up any tension and become relaxed and loose.
Keep breathing slow, calm breaths as you relax your back, sides, chest, and stomach.
Relax your hips, legs, and feet. Let your legs become totally loose, limp, and relaxed.
Allow your whole body to relax…as if you are floating. Calm…serene…free from tension.
Notice what it feels like as your muscles relax. Memorize this relaxed feeling so you can remember what it feels like to be relaxed, and so you can relax your muscles and release tension any time you need a quick relaxation break.
Get ready to return to your usual activities now. Roll your shoulders and stretch your arms, moving your muscles a little so you are awake and alert, and also relaxed.
Keep a relaxed feeling with you as you return to your day, feeling refreshed.
More Quick Relaxation Scripts