Go to sleep as you imagine lying on a comfortable chair with the sun shining down and palm trees gently swaying. This sleep visualization relaxation is a remix from previously recorded relaxation scripts including Relaxation for Falling Asleep at Dusk and Fall Asleep Fast Relaxation.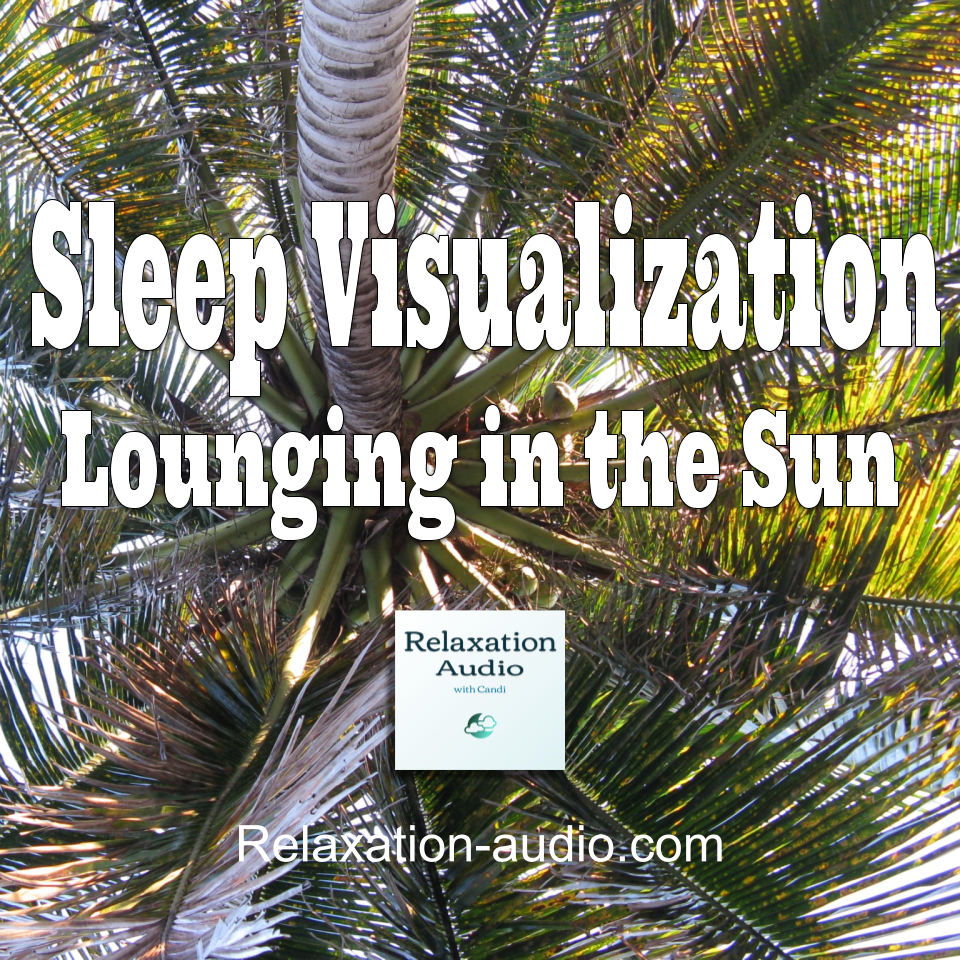 Find the Relaxation Audio with Candi podcast on iTunes, on Google Podcasts, on YouTube, at http://relaxation-audio.libsyn.com, or wherever you get podcasts.
Sleep Visualization Relaxation Script
Start by getting comfortable. You may want to lie down on your back with your arms at your sides and head supported on a pillow. Try not to move around too much so your muscles can start to relax. 
Close your eyes…and begin with some calm breathing. I will count for each breath in and out. We will start with short breaths, and get longer each time. As I count, try to breathe slowly so you are breathing in for the duration of the count. Pause for a moment if your lungs are full before I stop counting. Breathe out very slowly for the entire count, and again, pause if you have exhaled fully before the count finishes. The longest breath will be to the count of ten.
Let's begin by breathing in, one, two. Now out, one, two, three.
Breathe in 1, 2, 3. Out 1, 2, 3, 4.
Inhale 1, 2, 3, 4. Exhale 1, 2, 3, 4, 5.
Breathe in 1, 2, 3, 4, 5. Breathe out 1, 2, 3, 4, 5, 6.
In 1, 2, 3, 4, 5, 6. Out 1, 2, 3, 4, 5, 6, 7.
Breathe in 1, 2, 3, 4, 5, 6, 7. And out 1, 2, 3, 4, 5, 6, 7, 8.
Inhale 1, 2, 3, 4, 5, 6, 7, good. Exhale 1, 2, 3, 4, 5, 6, 7, 8, 9.
Inhale 1, 2, 3, 4, 5, 6, 7, 8, 9. Exhale 1, 2, 3, 4, 5, 6, 7, 8, 9, 10.
Good. Keep breathing slowly…just like this. (Pause for one breath)
Inhale 1, 2, 3, 4, 5, 6, 7, 8, 9. Exhale 1, 2, 3, 4, 5, 6, 7, 8, 9, 10.
Inhale 1, 2, 3, 4, 5, 6, 7, 8, 9. Exhale 1, 2, 3, 4, 5, 6, 7, 8, 9, 10.
Inhale… (pause) exhale… (pause).
Good…keep breathing slowly like this. Nice, slow breaths.
Continue to take slow breaths.
Relax now, doing nothing.
There is nothing you need to be doing right now. You don't need to try to sleep at all. The only thing you need to do right now is just be…just relax…it is so pleasant…and so comfortable…to relax.
It is normal for your mind to wander…and if you start thinking about things, just bring your attention back to focusing on how pleasant it feels to relax.
(Pause)
Begin to imagine as the sleep visualization begins.
As you begin to drift off to sleep, allow your imagination to create a pleasant image of a nice, relaxing place.
Imagine lying in the sun…on a soft, supportive lounge chair.
The chair beneath you is so soft…it feels like a bed…or a cloud…so comfortable.
Imagine the sun shining down on your face…shining down on your body…so pleasantly warm. Imagine the sun warming your hands and your feet especially. Picture your hands and feet feeling really nice and warm…and relaxed…and heavy. So heavy…limp and comfortable and relaxed.
Your hands and arms are so nice and heavy. Warm, pleasant and relaxed.
Imagine your feet and legs feeling so warm…and so heavy…loose and relaxed.
Becoming so relaxed.
Imagine how relaxed you would feel, lying there in the sun on such a comfortable surface. Just let go of any cares or worries…too tired even to think any thoughts besides just noticing how nice and relaxed you feel. 
With every breath, imagine your body becoming even more relaxed. It is as if you relax more with every breath in…and completely release any tension or stress with every breath out. 
It is such a nice, sleepy feeling to lie here in the sun…it might even be hard to stay awake. Imagine lying there on the nice, comfortable lounge chair…trying to stay awake as you rest and relax…but your eyelids feel so heavy it is as if you can barely even open your eyes…so you just let your eyes close…so comfortably.
It feels so good to relax. You don't need to do anything at all. You can just stay here all day in this peaceful place…and rest…and relax…it is so peaceful. Serene. Calm.
Imagine your lounge chair is next to some trees…swaying gently in the breeze. Imagine the sound of the slight rustle of the leaves as they move ever so slightly…creating little patches of light and shadow that move across your body and keep you the perfect temperature. Just that little bit of shade…and little bit of sun…are so nice. Just…perfect.
The breeze is so gentle…you can barely even notice it…but you can feel the gentlest touch of the breeze on your face. It feels so nice. The warm sun…and the cool breeze…so relaxing…comfortable…peaceful.
The sleep visualization continues in this relaxation video.
More Sleep Visualization Scripts