Relax by imagining the different senses with this sensory relaxation technique. Envision comforting and calming sensory experiences of smell, taste, sight, sound and touch. A peaceful journey through the senses.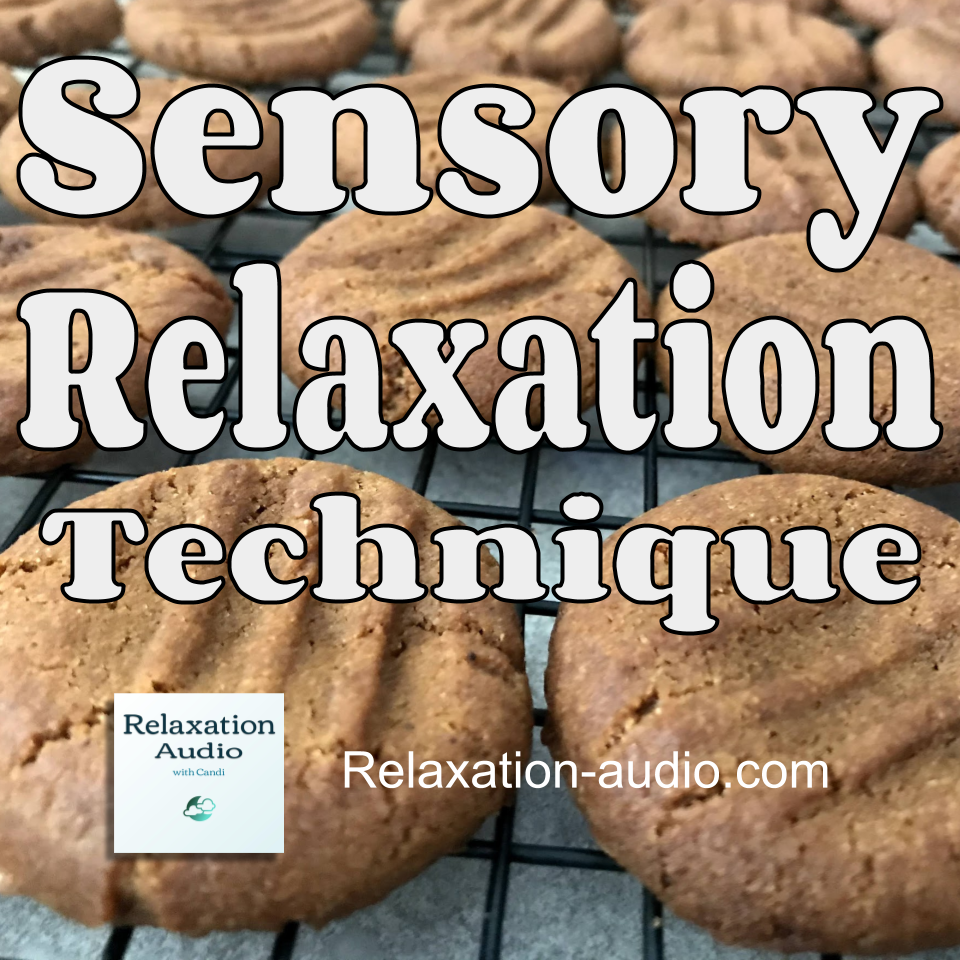 Find the Relaxation Audio with Candi podcast on iTunes, on Google Podcasts, on YouTube, at http://relaxation-audio.libsyn.com, or wherever you get podcasts.
Want to hear more relaxation podcasts? Check out the most recent relaxation podcast episodes here.
Sensory Relaxation Technique Script
Let's begin the sensory relaxation technique. Make yourself comfortable. Sit in a chair with your back supported, or lie down on your back with arms at your sides and legs straight. 
Close your eyes as you turn your attention to your breathing.
Breathing is a very important part of relaxation. When you breathe slowly and pay attention to your breaths, it helps your mind settle and become calm, and it also helps your body become more relaxed.
Notice your breathing right now.
Observe each breath moving in and out.
Your breathing will naturally slow to a calm and smooth pace. Let the air move slowly, peacefully, in and out.
Notice your breathing for a few moments.
(Pause)
As you continue to breathe, let your muscles relax a little. Consciously release any tension your muscles are holding, allowing your muscles to loosen.
Relax your shoulders. Let them become loose, sinking down into a relaxed position. Letting go of tension.
Relax your neck.
Relax your arms and hands. Let them become limp and loose.
Relax your legs and feet. Feel the muscles loosening…relaxing. Becoming soft and loose. Completely free of tension.
Relax your back. You may notice the muscles easing into a more relaxed position…ever so slightly moving into a lower, more relaxed position as you release the tension in your back.
Relax your chest, sides, and stomach. Feel the gentle rise and fall of your body as you breathe. Let the muscles be loose and relaxed, gently rising and falling like waves with each breath you take.
As we begin the first sensory relaxation technique, let your muscles continue to relax.
Imagine the sense of smell.
Keep breathing slowly, and let's imagine the sense of smell. First, picture the smell of cookies baking, when they are almost finished. A sweet, familiar smell. Imagine the smell of freshly baked cookies being taken out of the oven. Every time you breathe in, it is as if there is a tray of cookies right there in front of you, and you can smell them.
(Pause)
Now, picture the scent of baking bread. How would it smell if you were in a bakery, surrounded by freshly baked bread? Take a deep breath, imagining the delicious scent of fresh bread.
(Pause)
Can you imagine the smell of roses? Imagine the details of the distinct, sweet smell of roses. Imagine placing them close to your nose and inhaling their wonderful scent.
(Pause)
Now imagine the smell of freshly cut grass on a warm summer day.
(Pause)
Can you imagine the smells of being at the beach? The smell of warm sand and clean water. The faint odor of gasoline from a motor boat nearby. A hint of the smell of seaweed, reminding you of the lake or the ocean. The tropical smell of sunscreen. The scent of food in the distance, like fries and ketchup. Imagine all the delightful scents of the beach.
(Pause)
Imagine the smell of rain, newly fallen, enlivening all the plants and making the air smell clean and fresh.
(Continued)
The sensory relaxation technique script continues in the video below.
More visualization relaxation scripts you may enjoy: